Tux's? Amazing dresses? Autoguard flags? That can only mean one thing, the Auto Industry Excellence Awards 2019!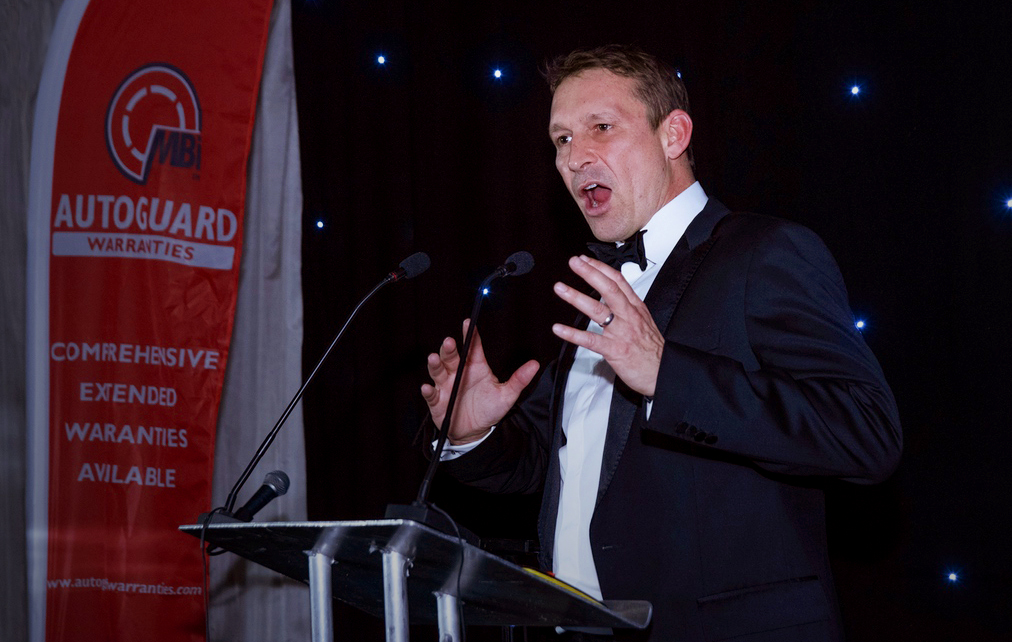 We arrived on Wednesday 20th March at Denbies Wine Estate in Dorking, Surrey to be the headline sponsor of this rapidly expanding awards event. The goal? To join independent car retailers and car repair garages alike and celebrate their successes in going above-and-beyond in the ever-evolving automobile industry.
The night started with some wine down in Denbies cellar, a lovely location should you ever have the opportunity to go! We transition to the main hall with London based pianist, singer and entertainer, Danny Mills playing the crowds in for dinner with his wonderful talent.
Our very own, Rob Dockerill, CEO, took to the stage (see below) and spoke about the admiration we all have for Francesca (the event organiser) and how much the event has grown since last year. He also noted how important it is to go that extra mile for customers and deliver the best service possible. This is exactly what these awards are about and why we sponsor it.
Steven Whitton, a motivational speaker, hosted the event and kept the crowd engaged throughout. Having a huge background in the automotive industry he was a perfect pick to MC this prestigious event.
Francesca Pipistrelli, Event Organiser, says: "Leading a motor business to success can be an extremely tough challenge, therefore we were keen to showcase the dedication, expertise and sheer hard work of our thoroughly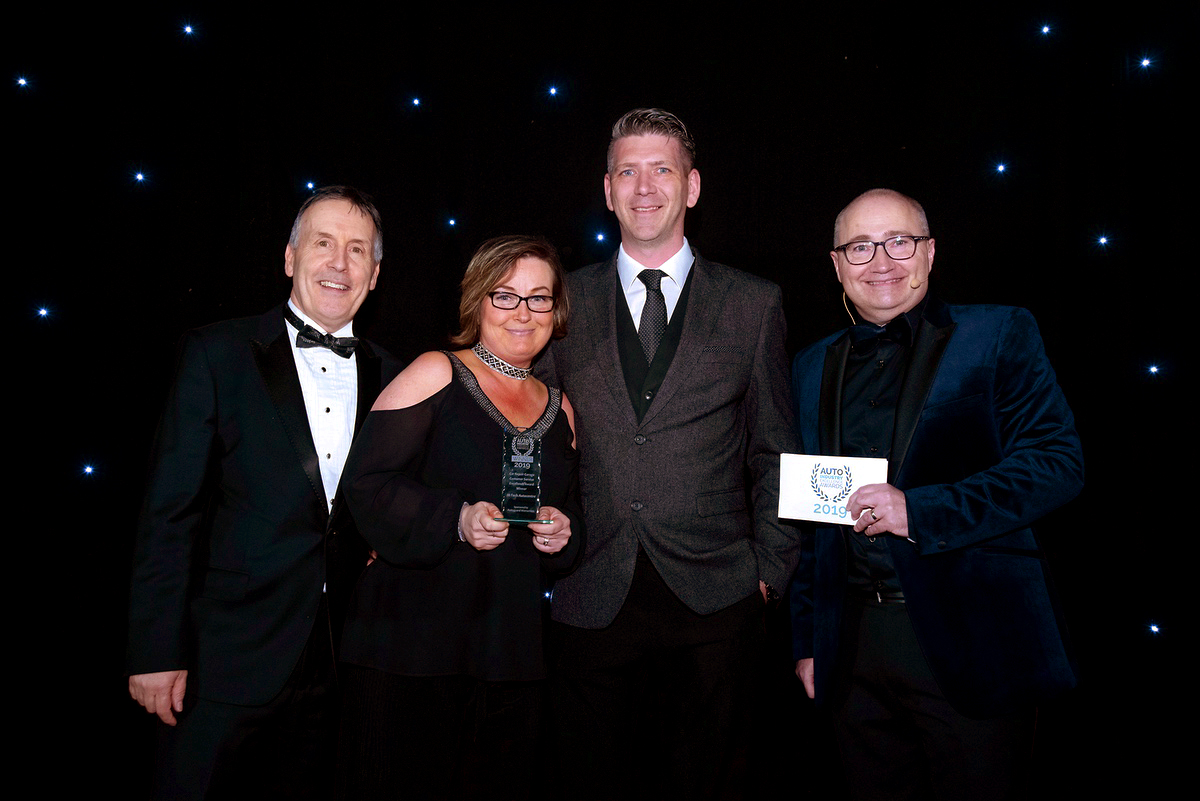 deserving winners. I would like to wish them the very best of luck for the future and congratulate them on their win in this prestigious awards programme. The Auto Industry Excellence Awards pride itself on the validity of these awards and winners. These awards were given solely on merit and were awarded to commend those most deserving for their integrity, passion and hard work, distinguishing them from their competitors and proving them very worthy of this recognition."
Congratulations to all of the winners, highly commended and nominees! We will see you next year.
Body Shop Excellence Award – Sponsored by Aston Lark
Presented by Jem Emirali
WINNER Devonshire Motors
Highly Commended Braintree Motor Works & Gemini ARC
Car Retailer Employer Excellence Award – Sponsored by Live at 3
Presented by Matthew Whitton
WINNER Alexanders Prestige
Highly Commended Luscombe Motors & Beck Evans
Repair Garage Employer Excellence Award – Sponsored by Aston Lark
Presented by Jem Emirali
WINNER Braintree Motor Works
Highly Commended Gemini ARC & MJ Warner
Car Retailer Aftersales Excellence Award – Sponsored by Autoguard Warranties
Presented by Rob Dockerill
WINNER SuperMini
Highly Commended Chequers Lightwater
Sales Manager Excellence Award – Sponsored by GBB Coaching & Consultancy
Presented by Tim English
WINNER Neil Relph – Beck Evans
Highly Commended Alan Harding – JA Autos & Phil Buchan – Jim Reid Vehicle Sales
Repair Garage of the Year (North) Award – Sponsored by EMaC.
Presented by Steve Molloy
WINNER REVS Motors
Highly Commended The Garage Whitburn & Paragon Motor Company
Repair Garage of the Year (South) Award – Sponsored by EMaC.
Presented by Steve Molloy
WINNER JS Motors Ltd
Highly Commended S&J Garage & Wood Automotive
Used Car Retailer Excellence (up to 60 cars) Award – Sponsored by findandfundmycar.com
Presented by Tom Harding
WINNER Whitethor Cars
Highly Commended TML Cars & West Malling Garage
Used Car Retailer Excellence (61+ Cars) Award – Sponsored by findandfundmycar.com
Presented by Tom Harding
WINNER Redgate Lodge
Highly Commended Empressive Motor Co & McCarthy Cars
Prestige /Specialist Used Car Retailer Excellence Award – Sponsored by Autoguard Warranties
Presented by Rob Dockerill
WINNER SRK Cars
Highly Commended Hawthornes Farnham & Alexanders Prestige
Franchised Dealership Excellence Award – Sponsored by Northridge Finance
Presented by David Smith
WINNER Sportiff
Highly Commended JG Burgess Fiat & Roadside Garages
New Dealership Excellence Award – Sponsored by Oodle Car Finance Presented by Harry Hussain
WINNER Emerald House of Cars
Highly Commended Motor Connect, Kent Motor Cars & eCars247
Car Repair Garage Customer Service Excellence Award – Sponsored by Autoguard Warranties
Presented by David Robinson
WINNER M-Tech Autocentre
Highly Commended Harris Motor Company & Crescent Motoring
Car Retailer Customer Service Excellence Award – Sponsored by Warranty Direct
Presented by John Highfield
WINNER Autocars UK
Highly Commended Car-Pod Ltd, Crompton Way & Specialist Cars Stoke
Dealer Website Excellence Award – Sponsored by Spidersnet
Presented by Sam Kidger
WINNER Targa Florio
Highly Commended Big Motoring World & Tempest4Cars
Independent Repair Garage Website Excellence Award – Sponsored by Leadspring
Presented by Jeff Cousens
WINNER Petersfield Service Centre
Highly Commended MJ Warner & Motoserve
Training & Development Excellence Award – Sponsored by Sentience International
Presented by Ali May-Khalil
WINNER Gemini ARC
Highly Commended Emerald House of Cars & PDH Cars Sussex
Repair Garage Marketing & Advertising Excellence Award – Foxy Lady Drivers Club
Presented by Steph Savill
WINNER Westgate Tyres
Highly Commended 1BR & Premier Autocentres Ltd
Car Retailer Marketing & Advertising Excellence Award – Sponsored by The IMDA
Presented by Umesh Samani
WINNER McCarthy Cars
Highly Commended Harvey Cooper Cars & Emerald House of Cars
Dealer Principal/CEO Excellence Award – Sponsored by Northridge Finance
Presented by Mike Lomas
WINNER Peter Waddell
Highly Commended Scott Knight & Umesh Samani
Apprentice Excellence Award – Sponsored by Autoguard Warranties
Presented by Colin Longfield
WINNER Mark Franklin
Highly Commended Craig Thomas